Near downtown Tucson, Arizona, is Dunbar Spring, a neighborhood unlike any other in the city. The unpaved sidewalks are lined with native, food-bearing trees and shrubs fed by rainwater diverted from city streets. One single block has over 100 plant species, including native goji berries, desert ironwood with edamame-like seeds and chuparosa bushes with cucumber-flavored flowers.
This urban food forest – which began almost 30 years ago – provides food for residents and roughage for livestock, and the tree canopy also provides relief to residents in the third-fastest warming city in the nation. It has made Dunbar Spring a model for other areas grappling with increased heat, drought and food insecurity caused by the climate crisis.
"We're creating a living pantry," said Brad Lancaster, a resident and co-founder of the Dunbar/Spring Neighborhood Foresters organization, which planted the urban food forest.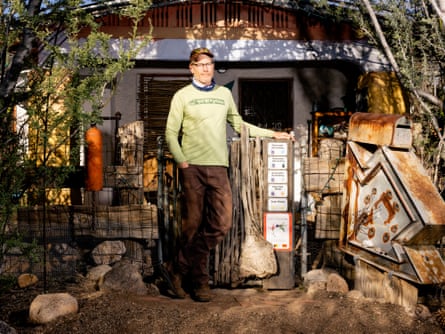 ---
Dunbar Spring's urban food forest began on an early morning in September 1996, when residents gathered for the first-ever community-wide tree-planting event. Like many lower-income areas in Tucson, Dunbar Spring was unusually hot, lacking the street tree cover to provide shade during the city's brutal summers. Temperatures today are 4.5F warmer than in the 1970s.
The plan, headed up by Lancaster, was to plant multi-use drought-tolerant shade trees in streetside basins that could capture rainwater and create "a more livable community", he said.
Almost 30 years later, neighborhood foresters have planted more than 1,700 trees and thousands more understory plants, transforming Dunbar Spring into an urban food forest fed by rainwater.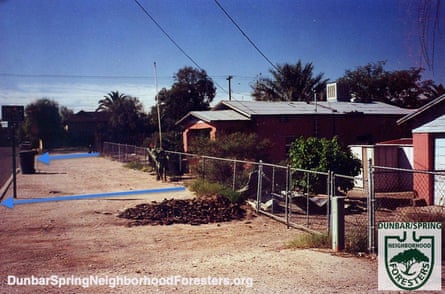 "We can plant resilient native trees that are not dependent on imported water for irrigation," said Lancaster, standing near a series of curb cuts that pull storm water off the street into sidewalk plantings. "Trees shade the street, reduce heat stress and provide food for our neighborhood."
Before the pandemic, Dunbar Spring held annual community-wide milling events, in
…
Read More...
Read More