Each Jazz Fest, I do my best to cover the food in just the way I see New Orleans people get after it— ravenously and obsessively.
Job one for me is to try the new dishes. This year there are many new additions to the festival menu, 18 dishes total, amounting to several years worth of change by the heretofore normal Jazz Fest standard rolled into one. You can find that report here.
But despite all the changes, the eating options around Jazz Fest remain largely and characteristically familiar, with most of the same vendors back and many dishes that are now festival standards again in rotation (and a few making their first return since the pandemic).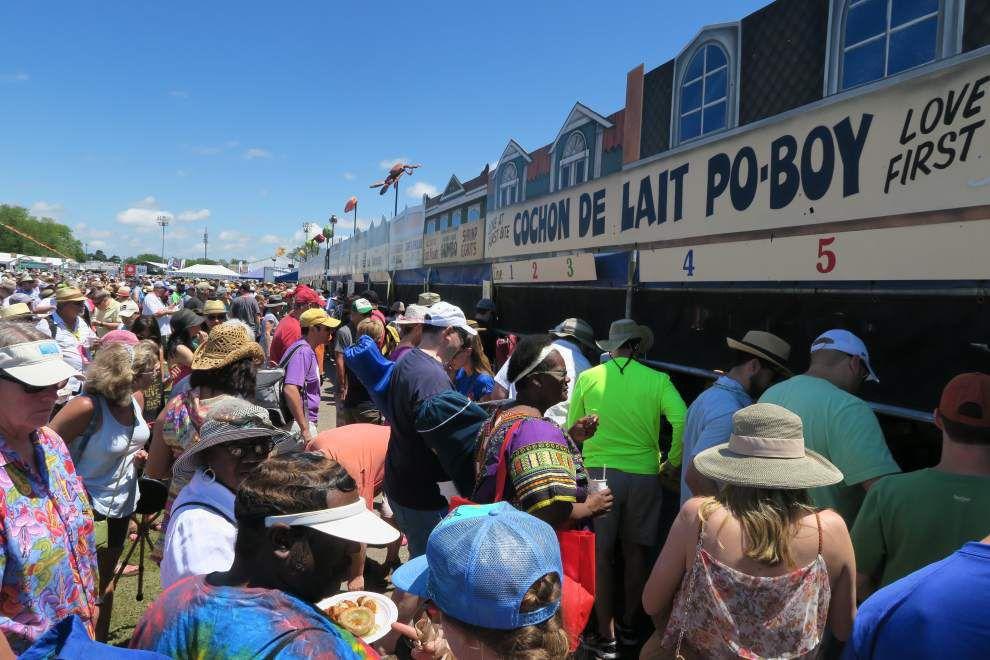 It's this continuity and consistency of Jazz Fest food that makes it possible to give confident recommendations right from the start.
So what follows is my essential Jazz Fest menu, the recommendations I would hand anybody walking into the Jazz Fest for the first time, or maybe for the first time in a long time.
There's much more to come Jazz Fest food lovers, so keep your phones and forks close at hand. And remember, Jazz Fest is cashless this year, which applies to all vendors.
Note: these are arranged by area. Food Area 1 is near the center of the festival grounds, in front of the Economy Hall Tent. Food Area 2 is closer to the Festival Stage (previously called the Acura Stage). Congo Square food area is by the Congo Square stage. And the Heritage Square food area is between the Blues Tent and the Jazz Tent.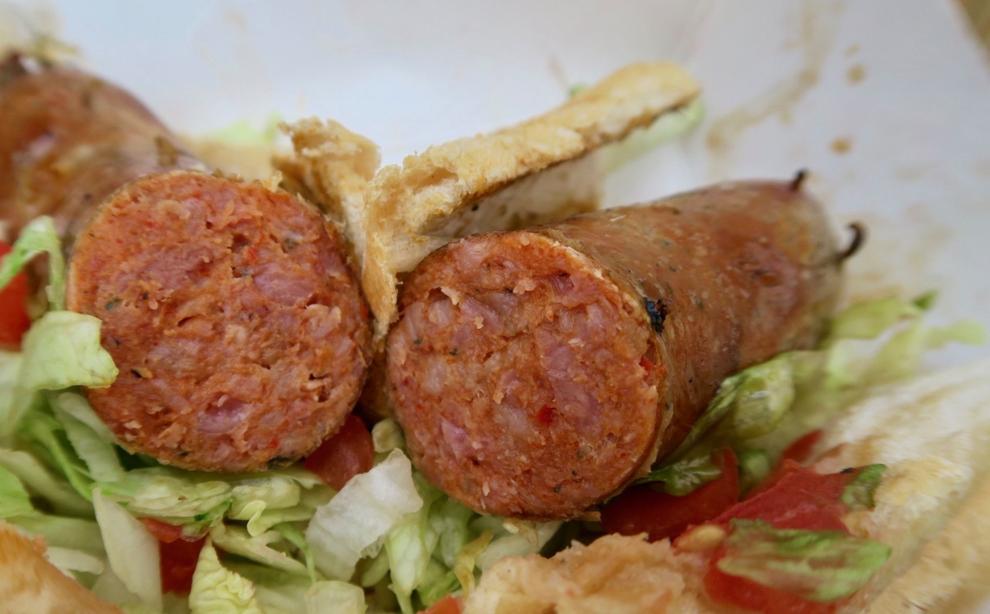 Hot sausage po-boy Vaucresson (Food Area 1): Continuity is a theme for Jazz Fest food and Vaucresson's is the multi-generation emblem of that. The Vaucresson family has been part of Jazz Fest from the beginning so of course it's back now. This sausage is chaurice, a Creole heritage food, an important ingredient for many gumbos around town. You get one all to yourself in this classic po-boy.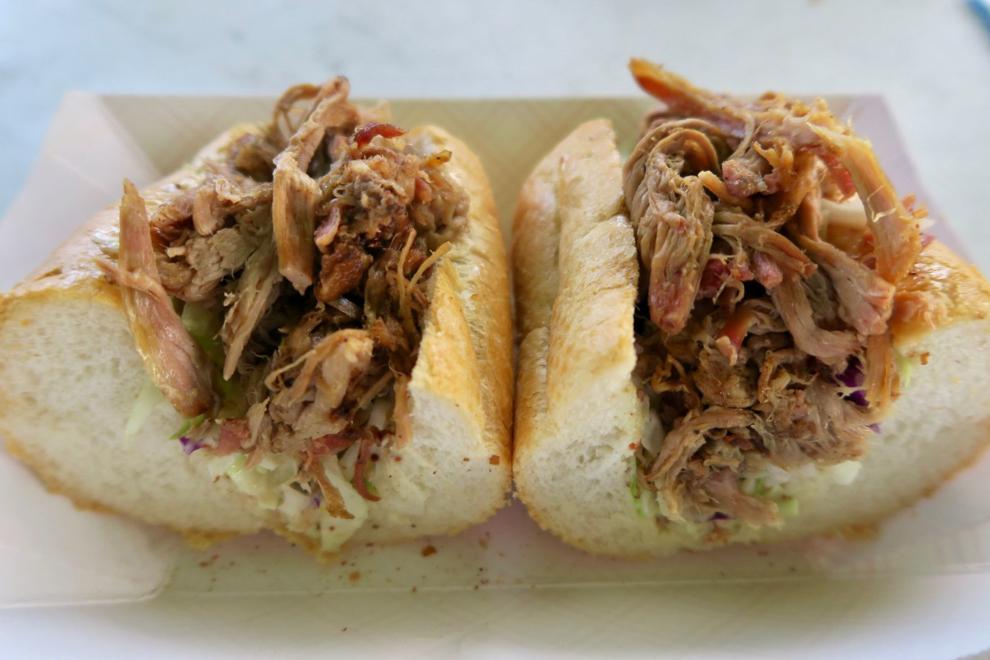 Cochon de lait po-boy (Food Area 1): There are only a handful of vendors serving a single dish at their booth. The runaway popularity of this po-boy dictates that kind of focus. This is barbecued pork, Louisiana style, and the contrast between the textures of the meat and the crunchy creamy slaw are irresistible.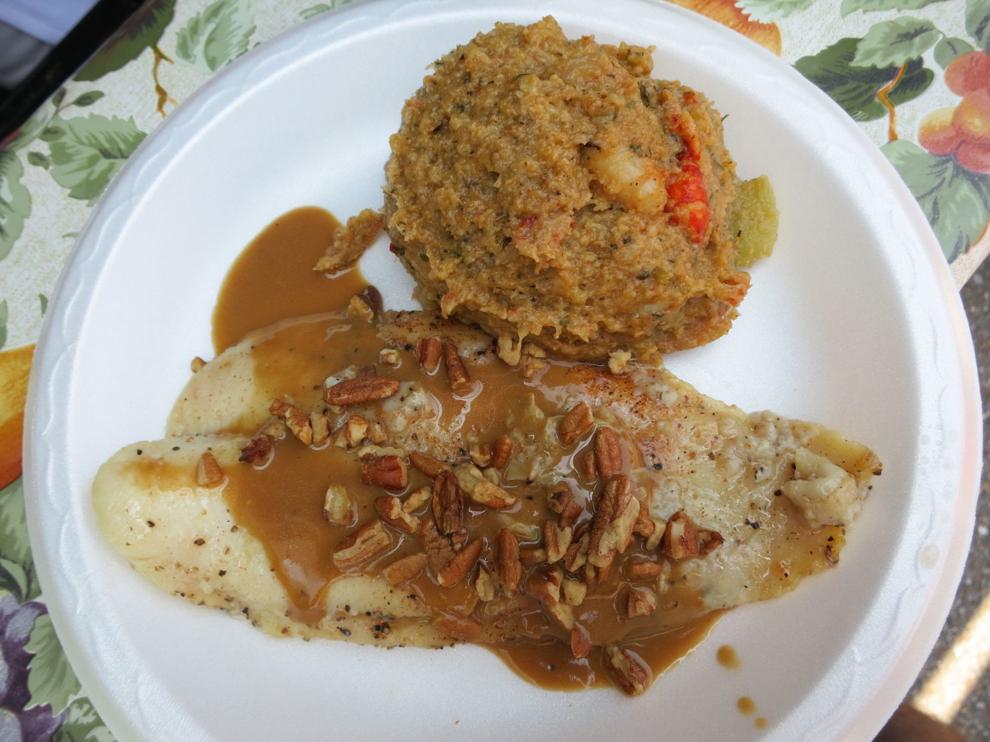 Pecan catfish meuniere with seafood mirliton casserole (Food Area 1): This is the kind of meal you might be lucky enough to get if someone from south Louisiana invited you over for supper. The casserole, spicy and full of seafood, is holiday home cooking and the whole plate works together as a feast.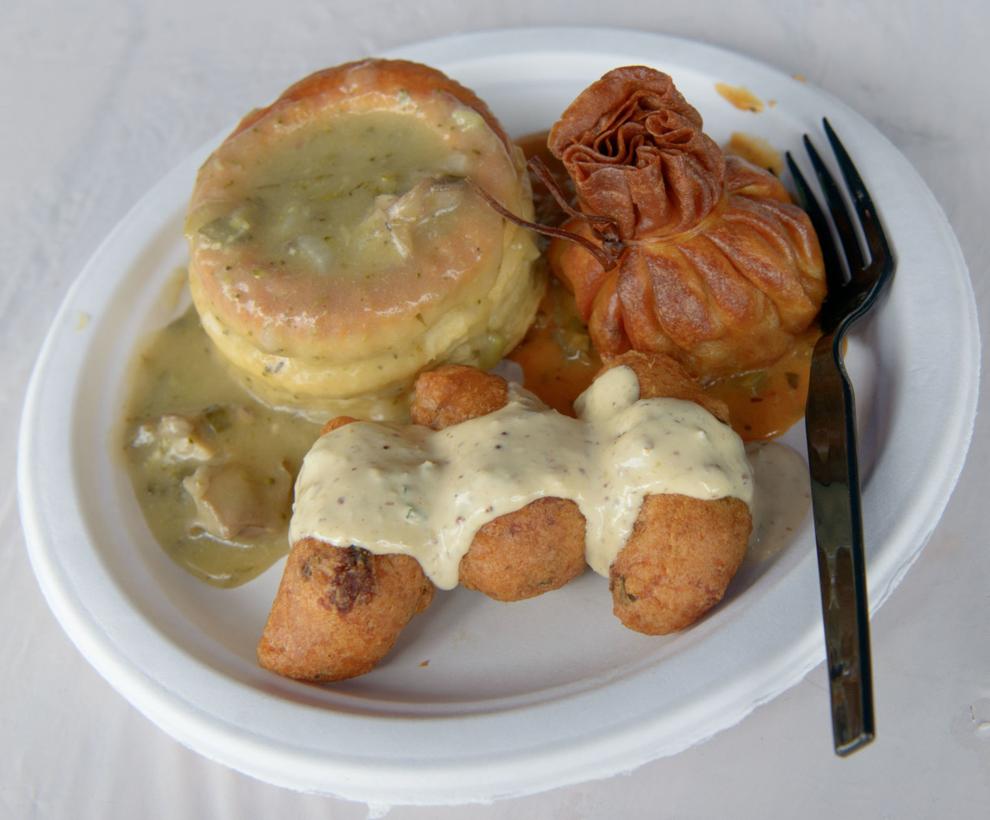 Crawfish sack, oyster patties, crawfish beignets (Food Area 1): One of the head-turning combo platters of Jazz Fest, this combo looks like you've filled a plate from a Louisiana buffet. The sacks are like fried dumplings filled with crawfish, the oyster patties are vol-au-vent pastry shells filled with a creamy oyster sauce, the crawfish beignets are puffy fried dollops of batter filled with more crawfish.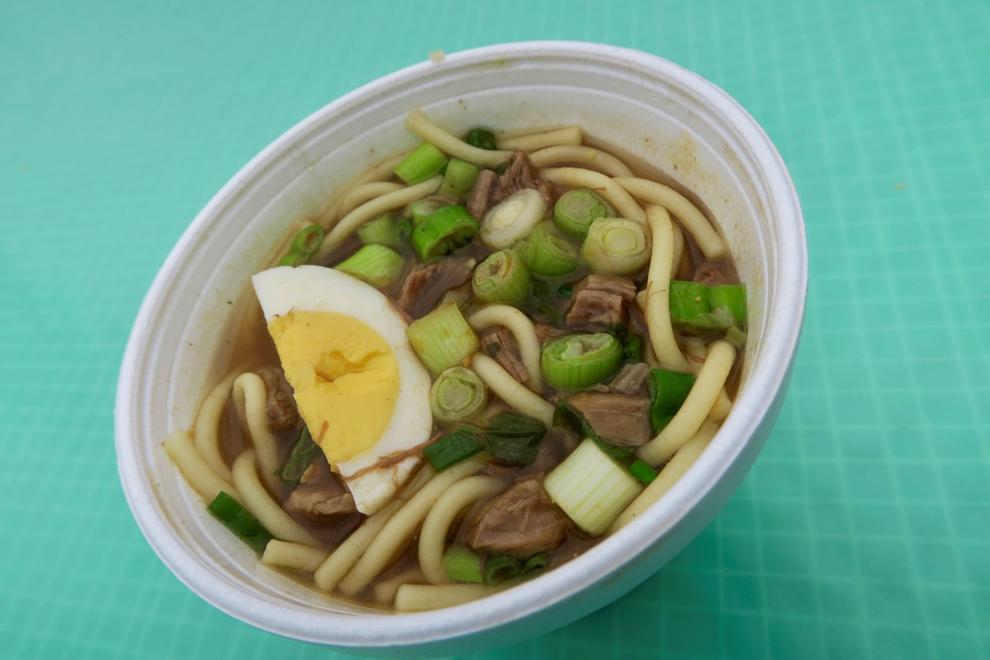 Yakamein (Food Area 1): A hangover is not required to enjoy this second line parade classic, also known as "old sober." But Miss Linda Green's broth, smacking with green onions, sluiced with noodles, bits of beef and egg and the (optional) shot of hot sauce, is undeniably restorative. If that sounds like just what you need somewhere along your Jazz Fest experience, no one will judge.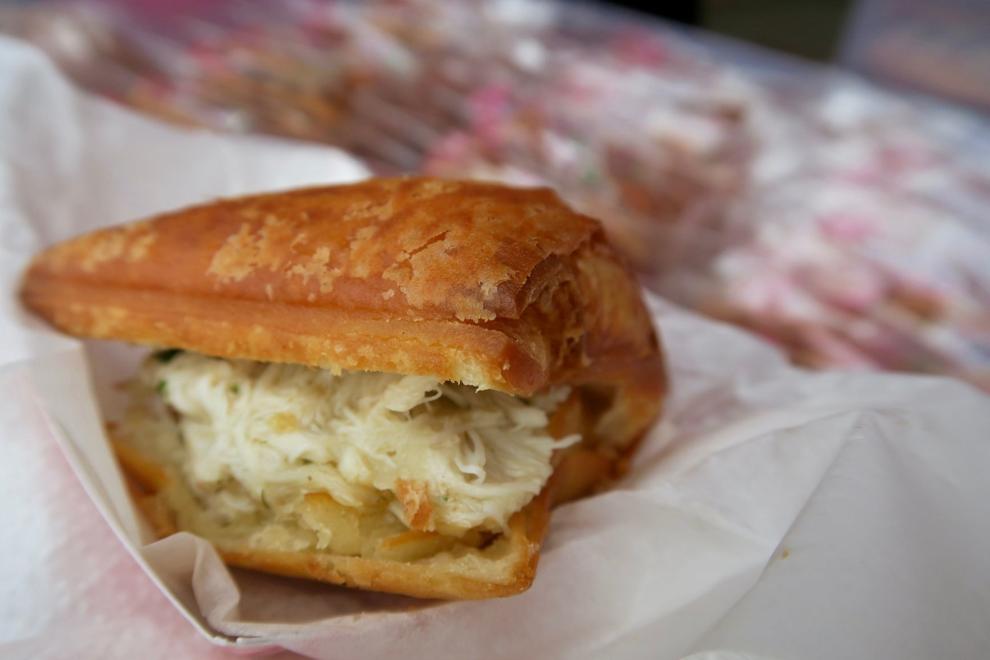 Crabmeat stuffed beignet (Food Area 2): Rich, indulgent and quite possibly the single best bite of food at Jazz Fest, these are beignets merged with crabcakes. The sweet, fresh taste of crab melts into a beignet with its own croissant-like texture and crisp outer shell. You'll devour this in just a few bites. It's not a meal, it's an experience.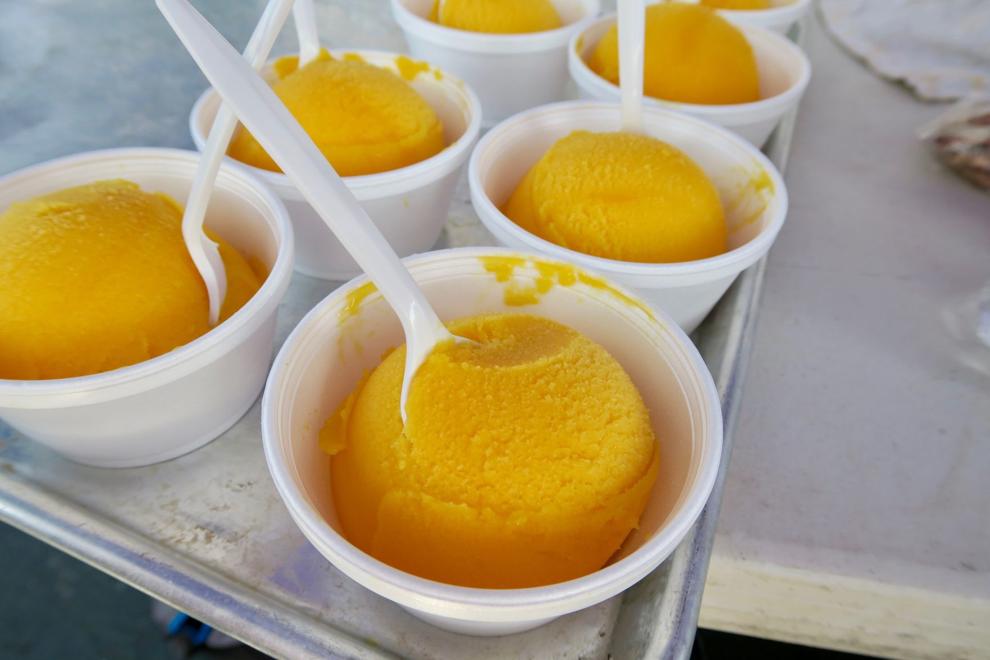 Mango freeze (Food Area 1, and other locations): The iconic sweet treat of Jazz Fest, it's a sorbet with robust mango flavor but only mellow sweetness. It's refreshing, and it also doubles as a fundraiser for community radio station WWOZ 90.7 FM in New Orleans.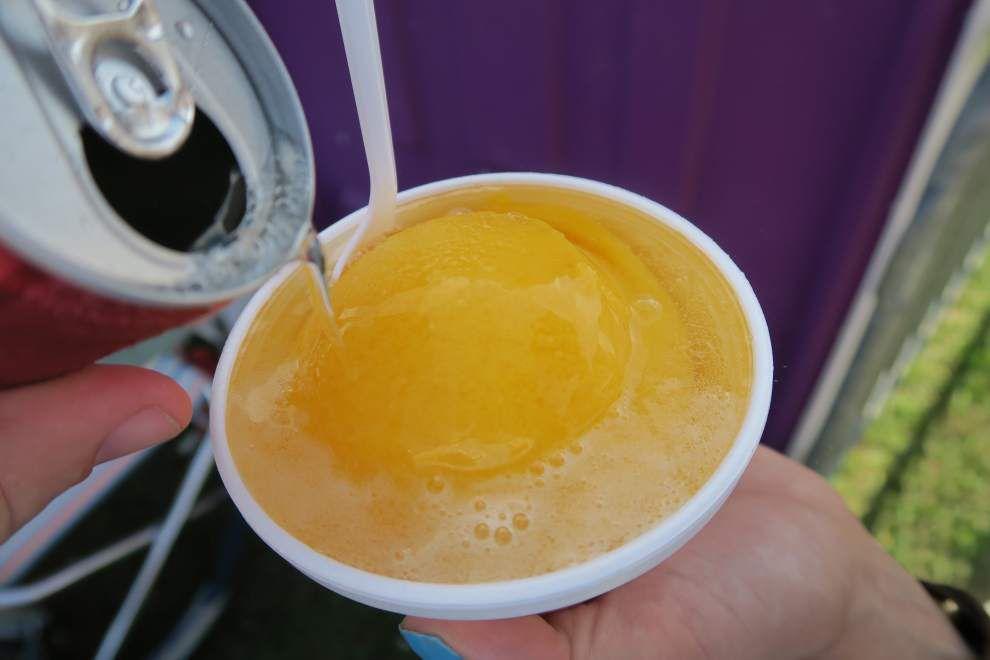 Pro tip: this pairs beautifully with the sparking wine sold from nearby beverage tents; pour some over the mango freeze or add a spoonful to your bubbly.
Trout Baquet (Heritage Square): Li'l Dizzy's, that essential Treme café, was back at Jazz Fest last year, but its namesake dish was missing. Now it's back, again offering a one-plate demo on the big difference a little Creole culinary perspective can make for a dish. This golden-edged fish is crowned with crabmeat and sluiced in butter sauce, for a taste of home cooking. Get the combo with crawfish bisque and you have a Baquet banquet.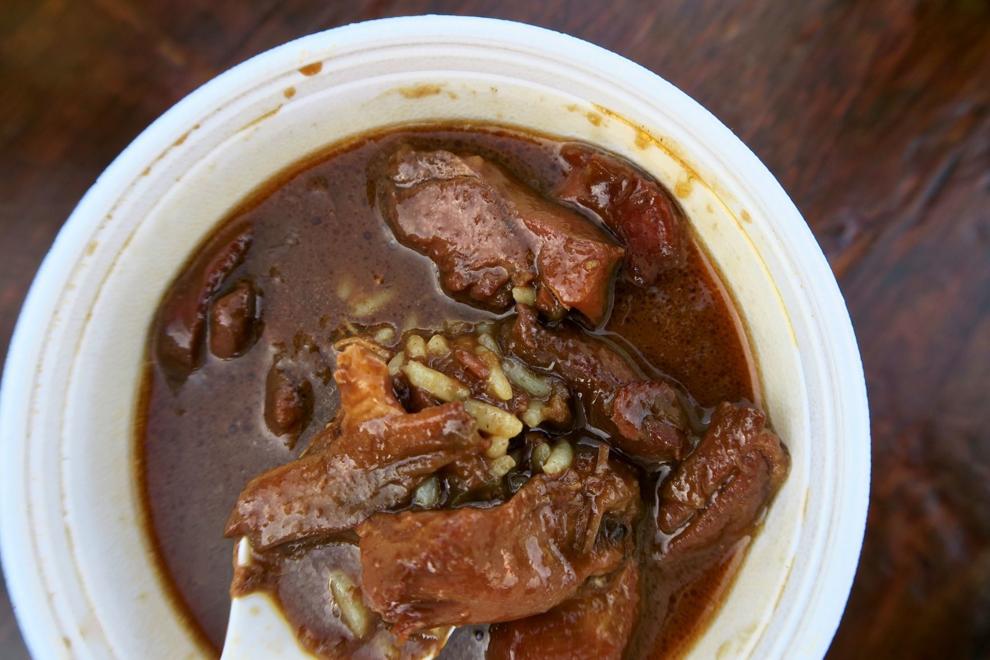 Pheasant, quail, andouille gumbo (Food Area 2): Gumbo is everywhere in New Orleans, and yet many locals eagerly anticipate Jazz Fest each year for another taste of this one from Prejean's Restaurant in Lafayette. It's the epitome of a country style Cajun gumbo, teeming with fowl and smoky sausage in a deeply flavored roux.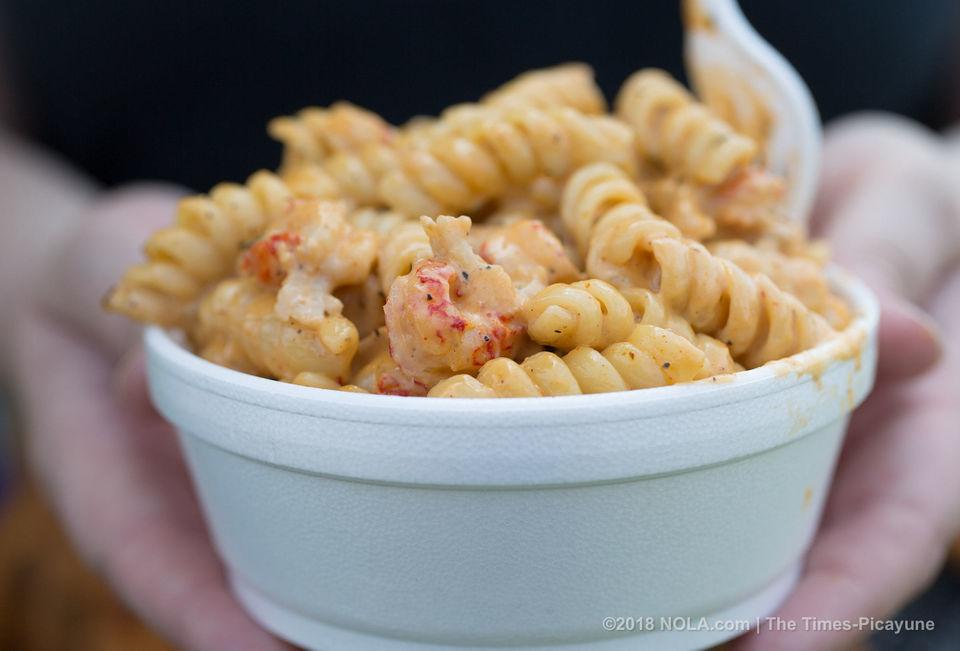 Crawfish Monica (Food Area 2): A bowl of seafood pasta with cream sauce might not seem like a natural fit for free-wheeling festival food under the hot spring sun, but this dish is synonymous with Jazz Fest after its long tenure here. For many devotees, it's the dishes that welcomes them back to Jazz Fest.
Soft shell crab po-boy (Food Area 2): In other cultures they might look askance at such a gnarly, leggy thing wedged into a loaf. But we know that a whole fried soft shell crab is one of the gifts of southeast Louisiana's robust seafood heritage. Casually chowing down on these while strolling between Jazz Fest stages is one of the joys of living.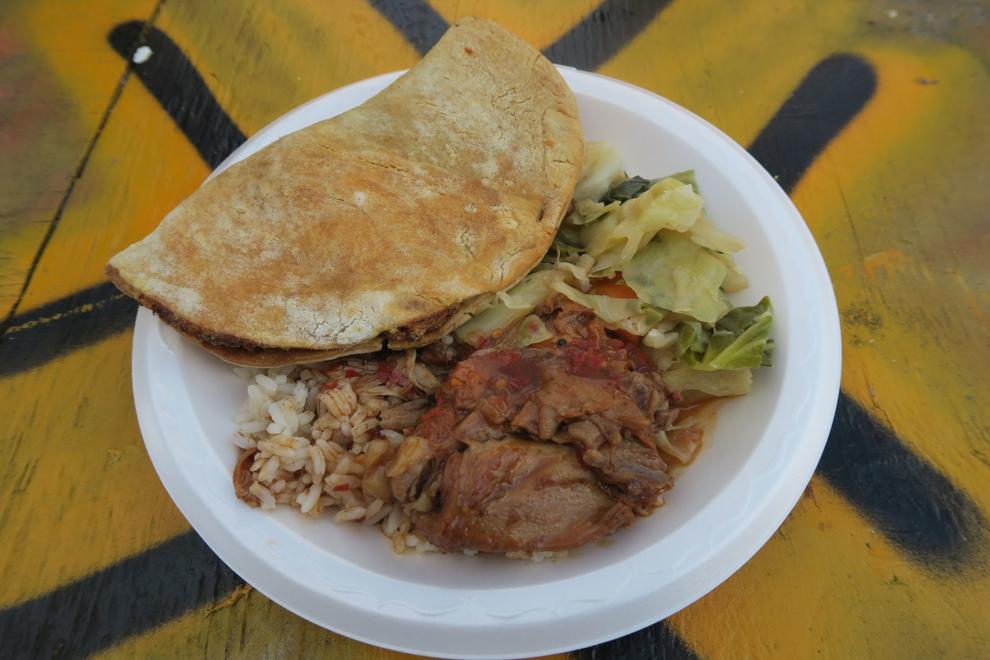 Jamaican chicken and curry chicken patty combo (Congo Square): When the heat really starts cranking up at Jazz Fest (typically the second weekend), the "sub" part of our subtropical environment falls away and New Orleans does feel more in synch with the Caribbean. These flavors complete the connection across your palate, with a full meal serving of island soul. The patty makes a great on-the-go snack all on its own. Palmer's missed last year's Jazz Fest but is back in full swing for 2023.