Juicy, crunchy, crispy and covered in a glaze sauce, Korean fried chicken is one of the most loved K-cuisines and has won millions of hearts worldwide. A contemporary food staple in Korea, the Korean fried chicken recipe promises to serve a burst of sweet, sour and spicy flavours in every bite.
The dish is currently a food phenomenon and most of its global success can be attributed to the legendary South Korean band BTS. Be it Jungkook enjoying the Korean fried chicken in Break The Silence: The Movie (2020) or BTS releasing the 'BTS Meal' along with a sauce inspired by the Korean version of fried chicken in McDonald's, the group has managed to pull the world's attention towards their favourite dish.
With each passing generation, Korean fried chicken, which supposedly had an American influence in the beginning, broke away from that version to become a recipe of its own. In Korean, people simply call the dish 'chikin,' making it a 'Konglish' (Korean plus English) version of the English word 'chicken'. Koreans also call it that in order to differentiate the dish from all other types of 'tak' (chicken).
As per the Ministry of Agriculture, Food and Rural Affairs and Korean Food Promotion Institute, "Korean-style fried chicken has been voted the most popular Korean dish among non-Koreans worldwide," reports Korea.net (2021).
This conclusion came up after a survey conducted on 8,500 residents in 17 major world cities including Beijing, New York and Paris from August to September 2021. The findings of the survey reveal that "Korean-style fried chicken was the most consumed with 30%, followed by kimchi with 27.7%, bibimbap (mixed rice with meat and vegetables) 27.2%, tteokbokki (spicy rice cake) 18% and gimbap (seaweed rice roll) 15.5%."
Want to know more about almost everyone's top favourite Korean food? We have you covered.
Origin of Korean fried chicken
Did you know Korean fried chicken is not actually of Korean origin? Well, the golden brown pieces of heaven that melt in your mouth have an interesting history.
To begin with, fried chicken is an American invention. The dish owes its origins to enslaved African-Americans, who with the Scottish technique of deep-frying chicken in fat, started preparing the dish with the seasoning techniques used in West African cooking. So how did a distinctly American dish become the best-fried chicken in Korea?
The year was 1950 and American soldiers stationed in Korea during the Korean war celebrated thanksgiving by using fried chicken as a substitute for turkey. And, that was how Koreans got a first-hand introduction to the dish. However, it wasn't until the 1960s that the first-ever rotisserie chicken shop started in Myeongdong. This later led to the invention of 'yellow bag chicken' — parents bringing home rotisserie chicken in a bag for their families.
The 1970s 'Miracle on the Han River,' also known as the period of the economic boom in the country, was what brought about a shift in the Korean markets. Numerous stores of the Korean version of fried chicken started coming up — the first one being Lim's Chicken (1977). KFC (Kentucky Fried Chicken) followed soon after and launched its first Korean franchise in 1984.
Meanwhile, Korean people, with wit and patience, kept inventing new flavours to add to the popular fried chicken. And finally, the Korean version of fried chicken smothered in a sauce that the world relishes today, came into existence.
Korean fried chicken recipe
.@JudyJooChef spills ALL the secrets for making perfectly crispy and spicy Korean Fried Chicken. #TheKitchen > Saturdays at 11a|10c. Get the recipe: https://t.co/C2BWpsP0l8. pic.twitter.com/OcMImi0lj2

— Food Network (@FoodNetwork) November 3, 2020
Korean fried Chicken is an easy snack to make. Follow the recipe to make this mouth-watering Korean dish.
Ingredients:
Choice of chicken wings, drumsticks, boneless chicken thigh or whole chicken cut into pieces (quantity as per requirement)
2 tbsp vodka
2 tsp minced ginger
1 tsp salt
1/2 tsp ground black pepper
1 cup potato starch or cornstarch
Cooking oil
1 tsp gochugaru (Korean chilli powder)
1 green onion
Ingredients for the sauce:
3 tbsp tomato sauce
2-2 1/2 tbsp gochujang (Korean chilli paste)
1/4 cup honey
1/4 cup brown sugar
2 tbsp soy sauce
2 tbsp minced garlic
1 tbsp sesame oil
Method:
Take the chicken in a bowl and marinade well with vodka, ginger, salt and black pepper.
Evenly coat the chicken with the starch and let it set.
Take a deep fryer, add oil and heat until the temperature reaches 175°C / 347°F. A boiling temperature works well too.
Deep fry the chicken in the hot oil until fully done. Once it is fried, deep fry the chicken again in the oil at the same temperature.
Set the cooked chicken aside when golden and crisp.
For the sauce, take a pan and add all the ingredients for the sauce. Cook the sauce on low to medium heat while stirring well until the consistency turns sticky. Set aside when it starts bubbling.
Pour the mixture over the crispy chicken and garnish with sesame seeds and spring onions.
Serve hot with pickled radish and soju.
How many calories does the dish have?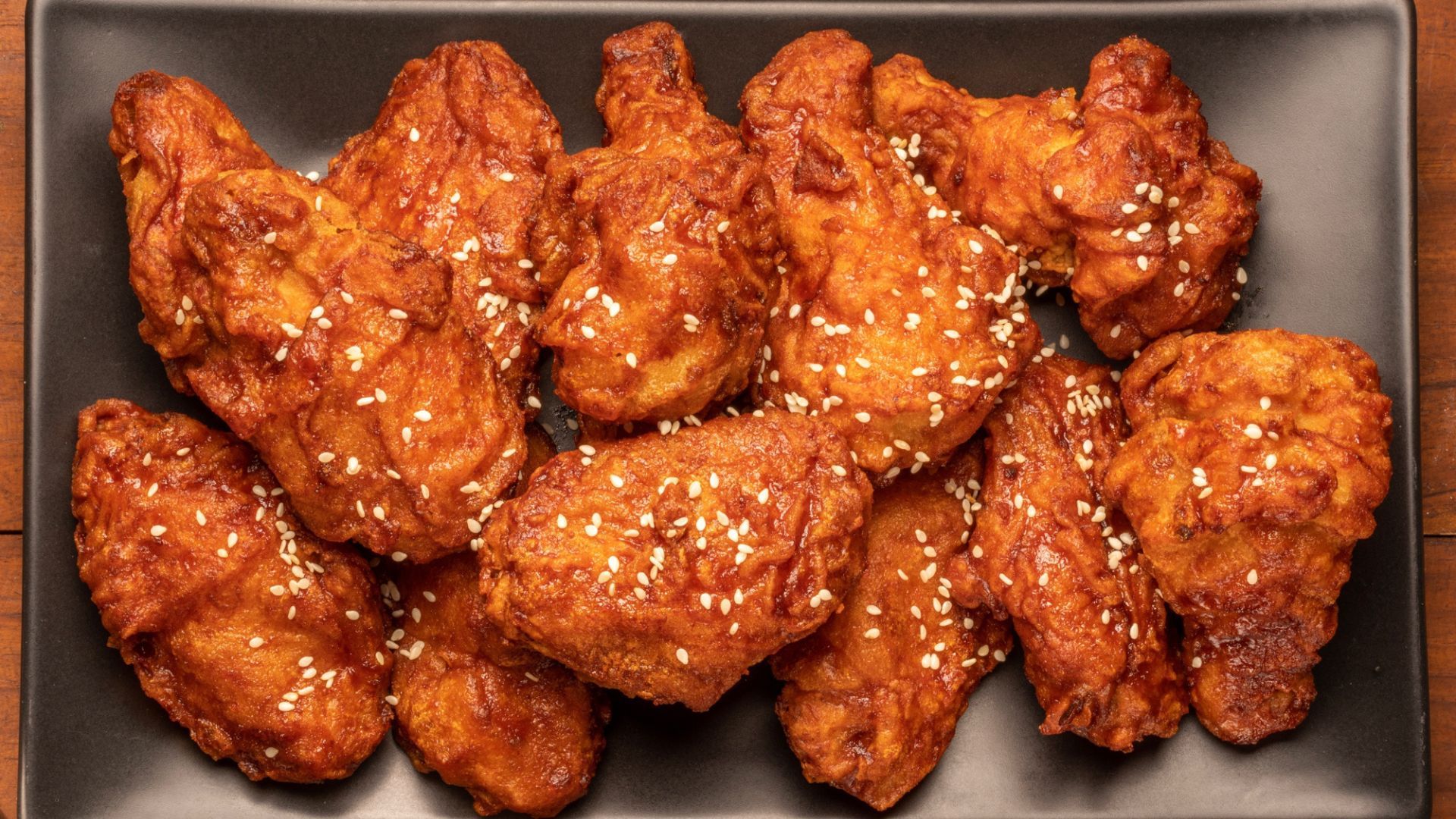 While consuming boiled, grilled or roasted chicken keeps its essential amino acids, micronutrients, minerals and vitamins intact, no kind of fried chicken can be called healthy. It's mostly because of the fat added during deep frying the chicken.
Nutrition experts from Eat This Much report that "a piece of Korean fried chicken has between 300 and 500 calories, depending on whether it's white or dark meat. A serving of a couple of pieces averages about 830 calories."
Where to find the best Korean fried chicken?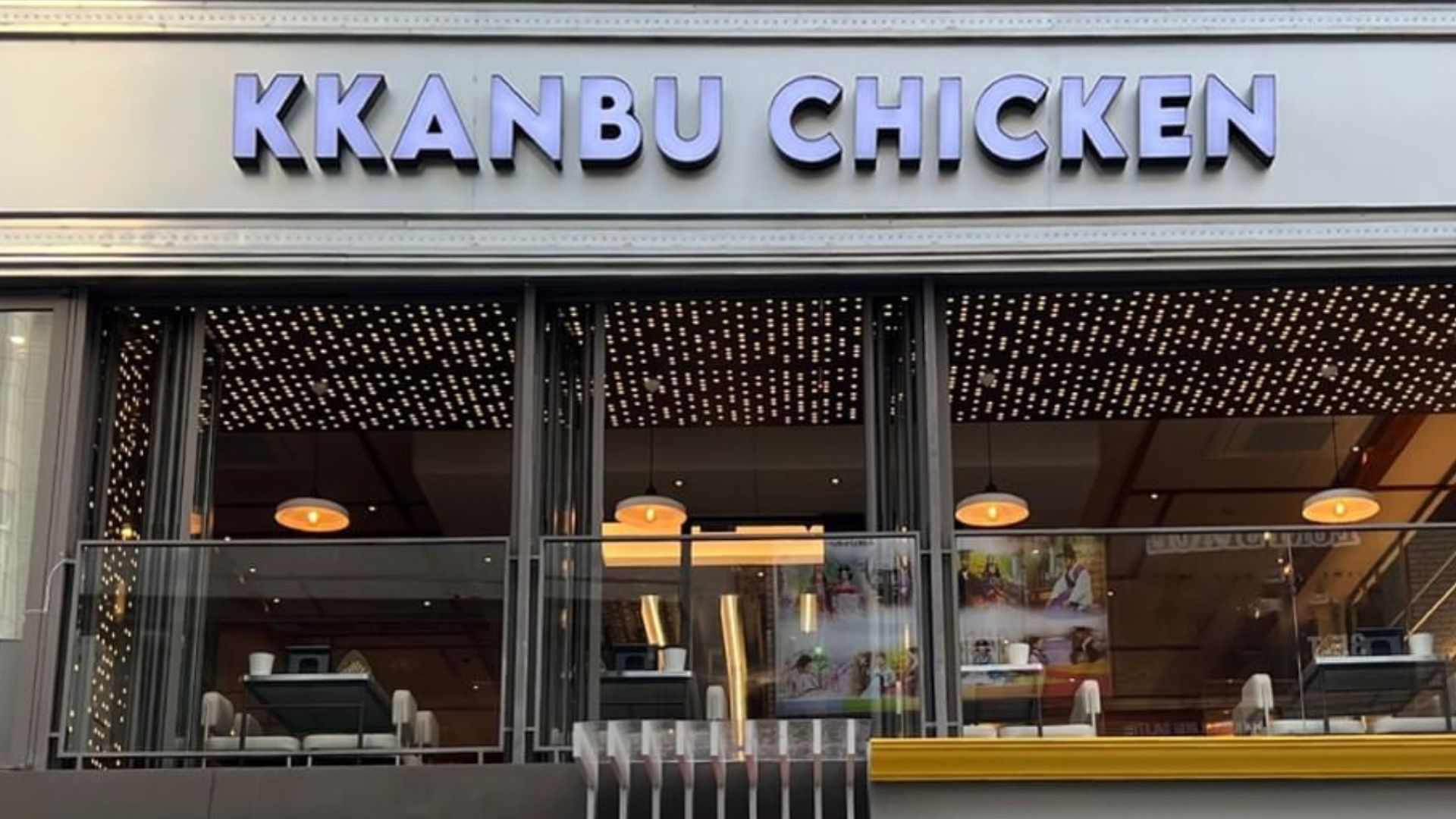 The best way to enjoy authentic Korean fried chicken is to cook the dish yourself. However, in Korea, some of the best places to find the dish are —
Kyochon Chicken Hongdae
371-3, Seogyo-dong, Mapo-gu, Seoul, South Korea
Opening Hours: 12:00 pm – 12:00 am (Mon-Sun)
More details here
KKANBU Chicken
11 Nonhyeon-ro 161-gil, Sinsa-dong, Gangnam-gu, Seoul, South Korea
Opening Hours: 4:00pm – 2:00am (Mon-Sun)
More details here
Hanchu Chicken
68 Nonhyeon-ro 175-gil, Gangnam-gu, Seoul, South Korea
Opening Hours: 2:00 – 10:00 pm (Mon-Sun)
Other than restaurants, one can find different types of fried chicken in the Korean market. The most famous type is the spicy Korean fried chicken (Yangnyeom Chicken).
"According to a survey in South Korea in 2020, Kyochon was the most popular Korean fried chicken brand among Millennials and Gen Z in South Korea with 43.2 brand power index (BPI) points," reports Statista.
(Main image: Courtesy KitchenSanctuary/Twitter; Featured image: Courtesy bts_bighit/Twitter)
Frequently Asked Questions (FAQs)
Question: What makes Korean fried chicken different?
Answer: It's unique technique makes it different. According to 'New York Times', "Korean-style fried chicken is radically different, reflecting an Asian frying technique that renders out the fat in the skin, transforming it into a thin, crackly and almost transparent crust."
Question: How is Korean fried chicken so crispy?
Answer: Korean fried chicken is crispy due to the addition of potato starch in its batter. Double frying the chicken is another reason for its crispiness.
Question: What is Korean fried chicken made of?
Answer: Korean fried chicken is made of chicken — first battered in cornstarch, flour, sugar, pepper, salt and other condiments, deep fried and glazed later with the Korean fried chicken sauce.
Question: Why is Korean fried chicken so delicious?
Answer: Korean fried chicken owes its deliciousness to seasoning ingredients such as green onions, garlic, rice vinegar, ginger and cornstarch. The sauce too plays an important role in adding more flavours to the dish.
Question: Is Korean fried chicken healthier?
Answer: Although fat is considerably trimmed out in the skin in Korean fried chicken but because of the double frying, it is still a fried dish. So it can be considered unhealthy. "A traditional serving of Korean Fried chicken can run at 940 calories with only 21 grams of protein and a whopping 84 grams of fat and 30 grams of carbs," reports 'Fitasianfoodfife'.
Question: What flavour is Korean fried chicken?
Answer: Korean fried chicken comes in many flavours that include sweet soy, honey butter, spicy garlic, plain fried chicken ('huraideu'-chicken) and sweet-and-spicy or seasoned chicken ('yangnyeom').